Log Homes are different than conventional houses and require special care. If a homeowner neglects these steps, it can lead to costly repairs or total log home restoration. The first step is surface preparation, which includes cleaning, sanding, and blasting. Once this step is completed, the staining can begin. Go to https://richardsonloghomes.com/ to learn more.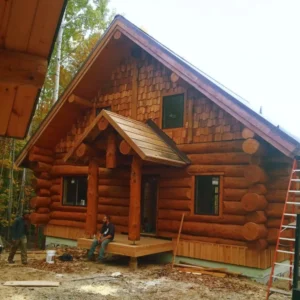 Large cracks or checks can be filled with a flexible caulk to prevent rain from entering your logs. Soft or punky wood should be filled with a penetrating borate preservative.
The foundation of your log home is more than just a support system for the walls and roof. It is a repository for the memories, hopes, and dreams made there. That is why it is important to have it inspected regularly.
If you do not properly care for your log home, it may deteriorate, making it unsound or dangerous. This is particularly true for old log homes or those not inspected in a long time. A routine inspection and basic maintenance tasks can keep your log home safe for decades.
One of the most common problems is wood rot. This can occur when a log is damaged by insects, rain, or other factors that cause moisture to penetrate the interior of the log. Once the inside of the log begins to rot, it is usually necessary to cut the affected portion away and replace it with new, kiln-dried material. This is a major repair but can be done fairly easily if addressed early.
Another common problem that can lead to rot is poor construction. Older log homes were often built without consideration of environmental factors such as sufficient roof overhangs to divert rainwater, gutters, and proper chinking. Other problems include:
Logs that are too close together.
There is not enough chinking to seal cracks and crevices.
Inadequate window and door caulking.
If rot is found early, most of these problems can be fixed by chiseling out the affected area and filling in with a rot-resistant product. Using the opportunity to re-chink the logs and apply more Energy Seal will also prevent future rot.
Many log homes are covered with paint that can cause serious rot damage to the interior and exterior of the logs if it is not removed properly. To remove paint properly, the logs must first be media blasted to clean them and then sanded to ensure a good bond for staining. It is also a good opportunity to apply borate treatments and protect the logs for the next several years.
Log home restoration includes processes like chinking, caulking, and applying borate preservatives. This work takes the most time but is extremely important to the long-term health of your log home. This process involves surface preparation (including removing old finishes, cleaning, and log home rot repair), re-chinking, and sealing your logs to protect them from weather and insects.
In addition to the regular maintenance of staining and re-chinking, it is also essential that you clean the exterior of your log home each season. Cleaning removes dust, pollen, and insects and helps prevent mold and mildew buildup. Another important aspect of exterior upkeep is a seasonal roof check to ensure no ice dams are forming along the eaves. These dams can tear off gutters and shingles and cause water to pour into the home.
The biggest problem with log homes is moisture damage, which can lead to some issues. These include rot and degrading of logs, insect infestations, and the formation of mold and mildew. Moisture damage can be caused by many factors, including inadequate overhangs (they should extend at least 3 feet), poorly designed weather walls (logs close to the ground are prone to rot), poor roofing jobs, and lack of a well-ventilated crawl space.
If moisture problems are caught early, most often, they can be repaired with a simple chinking and caulking job. However, if the rot is advanced or has been allowed to spread, it may be necessary to replace the affected log with a new one completely. This is a very costly repair.
Other repairs to the exterior of a log cabin can include doors and window replacements, as well as porches and decks. Many of these items are easily replaced as part of a full restoration project but can be costly if not addressed on time. In addition, it is a good idea to touch up your clear coat of stain at least once each year, as it is generally impacted by the amount of sunlight your logs receive and can begin to look dull or dingy rather quickly.
Log home restoration is not just about major structural repairs; many smaller items can be addressed. For example, if there is any evidence of water damage inside the house, it is important to have it repaired as soon as possible. If left unattended, the water will eventually soak into the wood, leading to mold, mildew, and rot, which can cause serious structural problems.
In addition, it's important to have the interior of your log home cleaned and re-stained regularly. This can help prevent future damage and keep your logs looking beautiful. Often, during the building process, there is a tendency to skimp on maintenance items like sanding and sealing the interior walls. This should be a priority for homeowners and should be done every year or two, depending on your climate.
Whether you are considering buying an older log cabin or have already purchased one that needs some work, it is important to consider how much time and money you are willing to invest in the project. Some items that need repair are cosmetic and can be easily corrected. In contrast, others are structural and could require significant time and money to restore to good condition.
The most common issues that must be resolved in a log home include large cracks, rot, woodpecker holes, and general weathering. A professional often easily fixes these items and will help extend your log home'shome's life.
The first step in the staining process is surface preparation, which involves media blasting, washing, cleaning, and borate treatment. After the logs and surfaces are prepared, they can be re-stained with either a water or oil-based stain. Staining is a very time-consuming job, but it's important that it is done correctly to ensure the finish lasts and protects the wood properly. It's also a good idea to have your home re-stained every 2-3 years, depending on your climate.
Log cabins require regular maintenance and re-staining. Staining protects the wood from UV rays that break down the structure and finish and helps prevent moisture infiltration that can lead to mold, mildew, or rot. A good quality stain is the best way to protect your investment and extend the life of your log home. It is recommended that you stain your cabin every 3-4 years.
Before staining, you will need to perform a full inspection of your cabin's logs, siding, and roof. This includes examining the condition of the chinking or caulking. This stuff fills in the cracks that occur as the logs shrink and move over time. It must be removed and re-caulked if it is torn or loose. It would be best to examine your gutters to ensure they are not leaking and funneling water away from the logs.
You should check the weather stripping around windows and doors to ensure they are in good condition. A damaged weather stripping will allow air to enter your cabin and, if left unattended, can result in costly repairs and replacements. Replacing worn or cracked vent covers would be best to keep air flowing properly through your log home.
The surface of the logs will need to be cleaned to remove any mill glaze or oil stains that have built up over the years. A cleaning will also prepare the wood for a new coat of paint and is very important to your long-term log home preservation.
After the surface is cleaned, the next step is a borate treatment to repel organisms that can cause damage to your logs and home. This step is very important to your long-term log home health and should be done by an experienced borate preservative specialist. After your borate treatment is applied, you can re-stain your log home. It is recommended to use a clear coat for the longest-lasting results. Staining is usually a two-person operation where one sprays and the other brushes.