Commercial General Contractors Oklahoma City play an essential role in ensuring that everyone involved in a construction project gets paid. They do this by bidding on projects, protecting lien rights for contractors, and facilitating payment.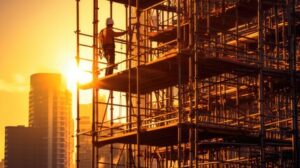 Experienced general contractors have premium connections and deep professional relationships with architects, designers, vendors, suppliers, sub-contractors, manufacturers, and shipping companies. This helps them secure discounts and save clients money.
Commercial general contractors are experienced in handling large construction projects. As a result, they are familiar with the special project execution techniques that are needed to complete these types of projects. Therefore, they are able to use these techniques to help the project progress more efficiently and cost-effectively. Moreover, they are able to select and hire the right workforce that is skilled in performing specific types of construction tasks. They also ensure that the workforce is trained in compliance with all zoning and building regulations for the specific construction site.
Additionally, they are able to identify and select the right building equipment and allied machinery that will provide the best performance for the project. This results in the reduction of labor costs and material wastage. A good contractor will also know the time of year when it is most cost-effective to carry out the work on a given project, as they will have a good understanding of weather conditions and their impact on the construction process.
They will also know when it is possible to obtain discounted materials and other resources because they have premium connections in the industry. They are able to negotiate prices on various items including labor, equipment, shipping, materials, permits and other supplies.
In addition, a good commercial general contractor will be able to develop price estimates based on the project scope and specifications. They will be able to count labor, materials, equipment, shipping, permits, legal fees and other expenses to give the owner accurate cost projections. This will help to avoid budgetary issues and change orders later on in the project.
Another way that a commercial general contractor can save money is by using the right materials that are energy-efficient. In addition, they will be aware of any government incentives for the use of particular materials. This can add up to substantial savings over the course of a project.
Finally, a good commercial general contractor will also be able to manage the flow of payments for all parties involved in the construction project. This will prevent delays caused by a lack of visibility or other factors that can slow down the payment chain.
Timely Completion
When working on a construction project, it is vital to adhere to strict timelines. A good general contractor has a full view of the entire project and will ensure that each stage is completed as planned. This will help ensure that the building is finished on time and meets all specifications.
A quality general contractor has premium connections in the industry and maintains professional relationships with various architects, designers, vendors, suppliers, manufacturers, and sub-contractors in the field. As a result, they are able to secure materials at a much cheaper rate than non-contractors and pass these savings on to their clients. This will save your business money on things like equipment, shipping costs, and permits.
In addition to the cost savings, a commercial general contractor can also help your business avoid delays due to unforeseen events by planning ahead for them. They know how to deal with weather, supply chain issues, labor shortages, and more. They can also help you choose the best materials based on their price, quality, and durability.
Moreover, they will make sure that your renovations are up to code and can pass any future home inspections. This will prevent you from paying expensive fines and rework costs down the line.
One of the biggest challenges that can arise during a commercial construction is the rising cost of raw materials, which often pushes up the final cost of a project. A general contractor will account for this by negotiating with vendors and selecting the best materials based on their budget.
A general contractor will also understand local building codes and ensure that all subcontractors comply with them. This will eliminate the risk of a rework down the line due to code violations or improper workmanship.
Finally, a commercial general contractor will take care of all the paperwork and permits for your construction project. This will prevent you from having to wait on multiple people to process your applications or pay the required fees.
Hiring a commercial general contractor is the best way to complete your construction project on time and within budget. It is essential to find the right general contractor for your job by researching them and requesting references from previous customers. You should also read online reviews and look at pictures of the general contractor's past work to decide if they are a good fit for your needs.
Streamlined Communication
Streamlined communication is one of the most important factors that help businesses increase productivity, boost customer service and decrease expenses. Every firm needs to communicate efficiently for success, but the traditional methods of communicating may not always be effective or fast enough. Using a streamlined communication process helps eliminate misunderstandings, ensure that all parties understand the message and makes it easier for people to share information.
Having clear communications throughout the construction project is crucial for a commercial general contractor to maintain control and avoid any issues that could result in cost increases. Miscommunications in the construction industry can impact productivity, morale and quality of work, and if they are not addressed quickly, may lead to delays or costly mistakes.
Ineffective communication can also result in a lack of alignment between project participants, which can cause tension and conflicts that compromise the overall success of the project. In addition, poor communication can result in a loss of trust or damage relationships with customers and other partners.
When a project team has clear and consistent communication, it can also improve documentation processes. Streamlined communication allows everyone involved in the project to easily exchange key documents, such as project requirements, design specifications, contracts, permits and other vital documentation. It also helps in eliminating misunderstandings, reducing costs and completing the project on time and within budget.
While many firms rely on traditional methods of communication, the modern world of technology offers a variety of tools to break down departmental silos and achieve true collaboration across the company. For example, SmartBid is a project management tool that helps companies collaborate across departments, teams and projects. By allowing all users to see the same data in real-time and provide simple ways to update it, the platform helps build relationships and ultimately get contractors more business.
It is important to note that streamlined communication must be followed by proper training and education for employees to use the solution effectively. Additionally, regular feedback on the streamlined communication solution should be collected to determine its effectiveness and to identify areas for improvement.
Permits and Building Codes
In the construction industry, a commercial general contractor is an entity that specializes in managing large-scale projects. These entities can be in charge of building a hotel, grocery store, or even a large car wash for commercial use. These companies also take care of all the functions that are required in conducting such large projects like budgeting, meeting deadlines, and adhering to building codes and regulations.
They appoint and manage teams of workers and technicians who are experts in their specific types of work on the construction project at hand. They do this to ensure that the job is done correctly and on time. Moreover, they also make sure that all the workers and technicians have the appropriate documentation, insurance, and licenses for working on the project.
Another important function that a commercial general contractor does is to help their clients choose the best materials for their projects. They have the expertise and experience to do so, and this saves clients money. It also helps to avoid unforeseen expenses later on in the process.
Since the requirements and specifications for building projects vary by region, a commercial general contractor makes sure that all their projects are compliant with regional and national building codes and regulations. They can also provide their clients with information on local regulations that might apply to their particular project.
Commercial contractors have years of experience in the field, and they are familiar with all the steps involved in building a project from start to finish. They can take the blueprints and plans that their clients develop with architects or designers and turn them into high-quality construction work.
In addition, they can also help their clients find the right location for a project and acquire the necessary permits for it to be constructed. This helps them avoid any unforeseen delays and other issues that might impact the quality of the finished product. They can also recommend the best materials for their projects, ensuring that they are of high quality and will last for decades to come. They can also help their clients avoid legal issues and financial penalties by adhering to local building code and permit regulations.